School Supply Kits

The Write Stuff school packs are grade specific teacher designed prepackaged school supply kits. Our prepackaged school packs include high quality school supplies and name brand products. Our school packs ordering options include the ability to collect orders from either your school or online. We also offer the ability for parents to customize their child's kit by adding additional supplies or removing items that they don't need.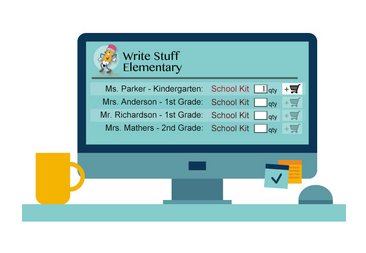 Online Ordering Available
The online store option offered by the Write Stuff gives our customers a school branded online storefront to help sell their prepackaged school supply kits. This is an easy way to take kit orders online and manage these orders 24/7.
Fundraising
Selling prepackaged school supply packs are great way to raise funds for your school. Students get the correct supplies needed for their specific grade and the school can generate revenue. The Write Stuff school supplies gives you a range of options tailored to your school's needs to help you take orders and sell your teacher designed school supply kits.
Exclusive Discounts
Another benefit of using the Write Stuff as your prepackaged school supply kit provider is our generous discounts. Please contact us for more information about how we can help your school supply program. The Write Stuff school supplies; school supplies made easy.